In mid-May, I'll be traveling to my hometown of Denver, Pennsylvania, about 60 miles west of Philadelphia. I'll be speaking to alumni of the Denver High School, where my father graduated in 1942.

As I noted in The Man Who Thought Like a Ship, Denver was briefly the worldwide headquarters for nautical archaeology. My father was born there and grew up there, of course, but in 1975, George Bass and his family returned to the United States with plans to found what would become the Institute of Nautical Archaeology.

Unsure where to go, the Basses moved to Denver so George and my father would be better able to plan their next move. Eventually, of course, they affiliated their fledging institute with Texas A&M University, but for about nine months, tiny, land-locked Denver was the center of all the activity..

To me, Denver remains much as I remember it as a child. It still has one stoplight, and Main Street doesn't look all that different than it did when my grandparents ran an electrical store there. I went to elementary school in the same building where my father did. Behind it is a cemetery in which my great- and great-great-grandparents are buried.

That continuity, that stability, was fundamental to my father's story. Much of who he was stems from the town, and in fact, when I talk about the book, I always start out by saying that Denver itself is a character in it. .

I look forward to embracing that character once again.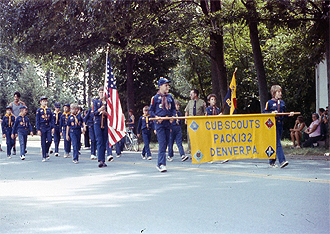 Cub Scouts marching in the Denver Day parade, celebrating the town's founding. The year was probably 1974 or 1975. I'm the second scout behind the flag-bearer.