Permanent Basin
January, 2019

The West Texas Oil Patch is booming again, and this time, industry leaders say it's likely to continue for years to come. How did one of the state's oldest oil fields become the world's hottest drilling play?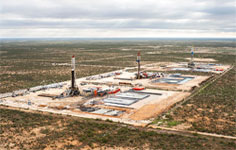 In the fall of 2017, Sean Mitchell and John Daniel thought it would be fun to invite some of their investment banking clients to Midland so they could see the fracking boom up close. As part of the gathering, Mitchell and Daniel, managing directors at Houston-based Simmons Energy, planned to fire up the smoker and host a barbecue. They expected that about fifty people would show up. But this was the Permian Basin, the hottest oil and gas play in the world, and nothing happens on a small scale. Two hundred and fifty people turned out.

The Bryan/College Station Eagle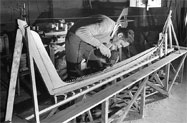 'Ship Lab' on RELLIS campus got its start with founding director J. Richard Steffy
It was in the Ship Lab, built to my father's specifications, that ancient ships began to "talk" to him. It was here that he tested his theories and where the rebuilding of ancient ships began.

Media

How Herb Kelleher Made the World a Whole Lot Smaller
January 4,2019
Herb Kelleher, who lived in Dallas, died Thursday at the age of 87. Few people have done more to change a major American industry. Congress deregulated the airlines in 1978, but Southwest, under Herb's leadership, democratized it. Southwest's fares, once far lower than its competitors, made it possible for millions of people to fly who previously couldn't have afforded it. The U.S. Transportation Department dubbed it the "Southwest Effect"—when the carrier entered a new market, passenger traffic soared. Read more
Rational Middle Series
December 1, 2017
I'm excited to announce a new project. For the past few months, I've been working with acclaimed documentary film maker Gregory Kallenberg to develop a new video series, The Rational Middle – Immigration. I was familiar with Gregory's work on the energy documentary Haynesville, and I was impressed with his previous Rational Middle series on energy. Now, we are delving into a multi-episode examination of the immigration issues facing the nation and what can be done about them. The first two episodes of the series are already available online for free, and Episode 3 is scheduled to be released in early 2018. We also have a related book project that we hope to release next year as well. And, of course, we will continue making new episodes of the video series as the year progresses.
Recent Books
My latest book, The Man Who Thought Like a Ship, was released in April, 2012. This is a very personal story for me, but also one I think you'll find interesting. In some ways, it's a book I wrote a little more each time someone asked me the seemingly simple question: "What does your father do?"
View the video below the see the
reconstruction of the Kyrenia Ship
Following Up On Flipboard

Interested in knowing more about the latest developments in energy and nautical archaeology? I've compiled two magazines on Flipboard, Energy Insights and Nautical Discoveries. They collect news from around the web, as well as my own posts on these subjects. If you're already a Flipboard user, you can simply search on the magazines' names at the login page. If you have any news links to add to either magazine, or you have any ideas for how to improve them, please let me know.