T. Boone Pickens On Selling the Ranch
June, 2018

A recent spate of closures of the iconic restaurant chain has left many communities in the lurch.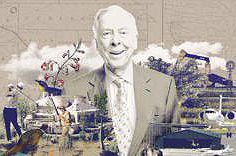 As he stares out the window of his Cadillac Escalade, there's a hint of sadness in T. Boone Pickens's eyes. The entrepreneur and financier still loves to show visitors around his sprawling, nearly 65,000-acre Mesa Vista Ranch in the Panhandle, but after 47 years of coming to the retreat most weekends, he knows his time here is limited.

The Bryan/College Station Eagle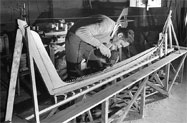 'Ship Lab' on RELLIS campus got its start with founding director J. Richard Steffy
It was in the Ship Lab, built to my father's specifications, that ancient ships began to "talk" to him. It was here that he tested his theories and where the rebuilding of ancient ships began.

Media

Rational Middle Series
December 1, 2017
I'm excited to announce a new project. For the past few months, I've been working with acclaimed documentary film maker Gregory Kallenberg to develop a new video series, The Rational Middle – Immigration. I was familiar with Gregory's work on the energy documentary Haynesville, and I was impressed with his previous Rational Middle series on energy. Now, we are delving into a multi-episode examination of the immigration issues facing the nation and what can be done about them. The first two episodes of the series are already available online for free, and Episode 3 is scheduled to be released in early 2018. We also have a related book project that we hope to release next year as well. And, of course, we will continue making new episodes of the video series as the year progresses.
Recent Books
My latest book, The Man Who Thought Like a Ship, was released in April, 2012. This is a very personal story for me, but also one I think you'll find interesting. In some ways, it's a book I wrote a little more each time someone asked me the seemingly simple question: "What does your father do?"
View the video below the see the
reconstruction of the Kyrenia Ship
Following Up On Flipboard

Interested in knowing more about the latest developments in energy and nautical archaeology? I've compiled two magazines on Flipboard, Energy Insights and Nautical Discoveries. They collect news from around the web, as well as my own posts on these subjects. If you're already a Flipboard user, you can simply search on the magazines' names at the login page. If you have any news links to add to either magazine, or you have any ideas for how to improve them, please let me know.